Light Resurfacing Peels
at Facelove Medispa
Safe
All treatments performed by a dermal therapist
Quality
Efficient equipment for outstanding results
Experienced
15 years experience in the aesthetic industry
Treatment Plan
Step by step, holistic treatment plan to achieve the desired result
What is the light resurfacing peel treatment?
After consultation and skin assessment by one of our practitioners, the most suitable peel is then chosen based on your skin needs or concerns. At Facelove, we currently have three different resurfacing skin peels from the DermaQuest range.
Lactic 30% – Our lightest peel which is ideal for sensitive skin and certain conditions like rosacea.
Power Peptide – Formulated with powerful skin bio stimulators, this peel is tailored for ageing skin and fine lines.
Power Pumpkin – Designed to meet the needs of those with hormonal acne breakouts, post-inflammatory hyperpigmentation, sun damaged and textured skin.
Consultation and treatment takes approximately 30 minutes.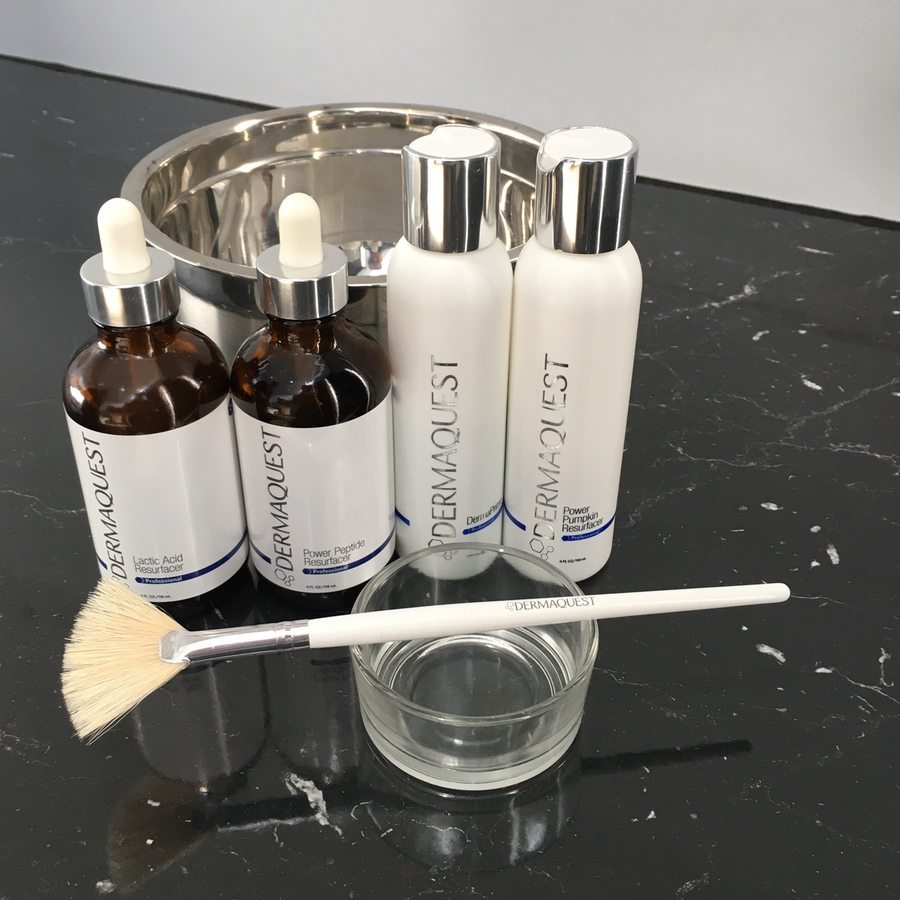 How does the treatment work?
Light resurfacing skin peels help with the exfoliation of dead skin cells and the stimulation of collagen and elastin production within the deeper layers of the skin. Regular peels also aid in better absorption of the active ingredients in your skin care.
After cleansing and prepping your skin, the peel solution is applied. Depending on the condition of your skin, the length of the peel can range from 3 – 10 minutes and an electronic fan may be used to help relieve some hot spots felt throughout the treatment. It is normal for your skin to feel very warm and it may sting and feel irritated.
Once we have reached a desired effect, a neutralising solution is applied to stop the effects of the treatment. During this stage, it is normal for the tingling sensation to intensify before it dissipates. It is also common to experience temporary redness. Active cosmeceutical serums and sunscreen are then applied and after care instructions will be explained to you.
What can I expect on the day after treatment?
After treatment, your skin may be slightly red and warm, and may take up to 30 minutes before calming down. Your skin may also feel a little tight. Mineral makeup can be applied after treatment, anything other than mineral makeup should be avoided for at least 12 hours post treatment.
It is common to experience some flaking dry skin 3-4 days after treatment, this is normal and expected. This means your skin cells are turning over – a good thing! During this time, it is important to avoid picking or scrubbing the skin. It is very important to use a good moisturiser after treatment.
What can I expect from the treatment overall?
At Facelove we know this treatment should give a refreshed appearance. Light resurfacing peels provide many benefits to the skin. These include, but not limited to:
Increased collagen production
Smoother skin texture
Brighter and more even skin tone
Less acne breakouts and congestion
Minimised appearance of pigmentation
Minimised appearance of larger pores and fine lines
We recommend a series of 5 treatments, fortnightly apart, for the best results.
Our peels are light and won't require any down time. Come in, enjoy some luxurious pampering and then step out and enjoy your brighter, smoother complexion.
Discover our Injectable Treatments
Here at Facelove, we offer a range of treatments to keep you looking and feeling your best.