Nasolabial Folds Treatment
at Facelove Medispa
What is a nasolabial fold?  It's the line from your nose to your mouth.  This line can create a tired, aging appearance even though you feel great.   It results from losing volume in your face as you age.  It is a normal part of aging and can look worse on people who exercise a lot. 
We can easily smooth this line creating a refreshed, healthy appearance with dermal fillers. These fillers last 12-18 months and look natural.  Remember the skill and eye of your injector decides your results.  We are experts with dermal fillers and will ensure you still look like you after treatment.
Dissolvable
All our dermal fillers are dissolvable and registered in the ARTG, AUST R 67311, AUST R 172264
Natural Results
Artistic, natural looking results to enhance your best features
Skilled
Aesthetic treatments performed by highly skilled practitioners
Treatment Plan
Step by step, holistic treatment plan to achieve the desired result
What is the nasolabial fold treatment?
After your initial 45 minute consultation with a Facelove Medispa practitioner, you may find you can do something about the lines on either side of your mouth. Our clients often refer to this problem as making them look drawn. This creates a look of deflation in the middle of the face. Sometimes our clients describe this as 'going south'.
This is all a normal part of facial ageing. Thankfully, we can treat this 'going south' with dermal fillers that last 9-12 months. At Facelove, we only use dissolvable dermal fillers. Our dermal fillers are made from a sugar chain and are easily reversed if there is any problem.
It is vital that your dermal filler treatment be undetectable and artistic. Our healthcare practitioners are highly trained in the art of cosmetic injecting. We spend time with you to create a bespoke treatment that enhances your best features and minimizes the negative.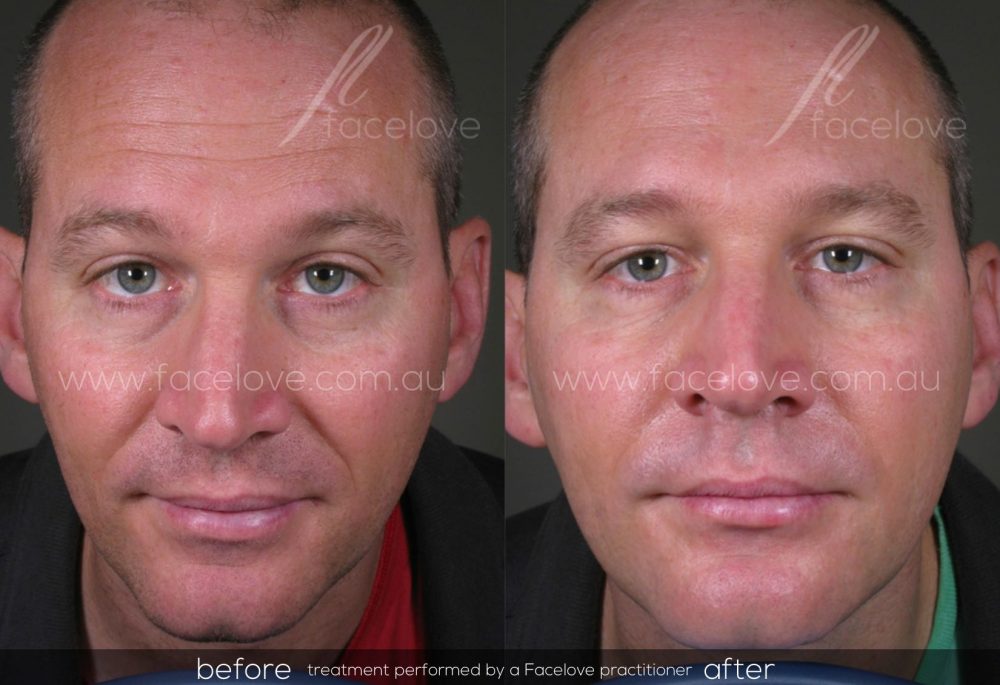 How does the nasolabial fold treatment work?
Dermal fillers are applied to the upper part of the nasolabial fold. Nothing looks worse than overfilled nasolabial folds and so your injector will discuss the correct amount of filler with you.
You can see the results immediately and as discussed all our dermal fillers are actually dissolvable for maximum safety.
What can I expect on the day after treatment?
As with all injection treatments, there may be some redness in the area of injection for an hour or so. Bruising is always a minor risk when having injectable treatments. You can minimize this risk by avoiding alcohol, omega 3 products and anti-inflammatory drugs for 24 hours before your treatment.
What can I expect from the treatment overall?
The aim of this treatment is to minimize the shadows on either side of the mouth. Smoothing this area creates a youthful look. You do not want to overfill this area and it usually follows a dermal filler treatment to the mid cheek area above it. At facelove, we constantly strive for outstanding results.
If you are going to have fillers in the nasolabial fold you really should consider a Liquid Lift dermal filler treatment. This will ensure facial harmony and balance. Check out our page on the Liquid Lift here.
View before and after photos of our own cosmetic injectable work
These are some examples of the natural looking work achieved by our highly skilled Facelove Medispa practitioners
Tip - When selecting your injector, always insist of viewing photos of their own work
Discover our Injectable Treatments
Here at Facelove, we offer a range of treatments to keep you looking and feeling your best.