Fraxis Duo – Fractional CO2 Laser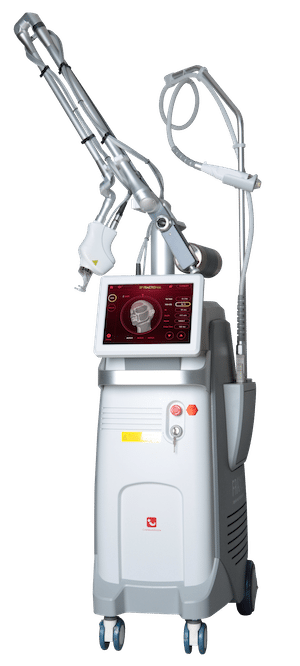 ---
---
What is the treatment?
The Fraxis Fractional CO2 Laser is a resurfacing treatment for skin rejuvenation. The treatment removes layers of skin tissue in a fractionated method (leaves untreated skin in between treated skin to allow faster healing). Some of the indications for this treatment include improving tone and texture, pore, and wrinkle reduction.
This treatment is ideal for patients with sun damage, large pores, acne scars and skin texture issues.  This laser treatment will also remove surface pigment.
How does the treatment work?
The Fraxis Fractional CO2 laser radiates micro laser beams through a scanner hand piece to deliver resurfacing of the superficial skin layers and regeneration of the deeper skin layers through effective optimal thermal temperatures. Each tunnel of light generated by the laser produces a tiny hole.  The body then begins wound healing and puts new collagen up the tiny hole.  The new collagen is generated as part of wound healing, this creates smoother skin, reduced pores and significantly reduced wrinkles. Surface pigmentation will also be removed.
What can I expect on the day after treatment?
This treatment requires some down-time of 5 – 7 days.
Day 1 – Skin will be red and warm.
Use a cool compress of vinegar and water for comfort and a thick topical gel to maintain a protective barrier. We prefer you stay inside for these few days if you can. Reapply the thick barrier gel regularly, this will speed up the healing process. Ideally you would avoid showering for a couple of days.
Day 3 – New skin will come through.
You can shower and gently cleanse the skin. You may experience mild itching and dryness. You can cover the pink colour Oxygenetix if you need to get out and do some shopping. We recommend you don't return to work until Day 5.
Day 5 – Skin is healed.
Still can be a little pink but easily covered with Oxygenetix makeup.
What can I expect from the treatment overall?
Fractional CO2 Laser is a great solution for all skin texture issues. You can expect smoother skin, fewer wrinkles, reduced pores, and reduced pigmentation.  You can smooth out lip lines (smoker's lines) and reduce the depth of acne scars.  Sometimes we will also use Dermal fillers to reduce the acne scars after a CO2 laser treatment.
Would you like more information or request an appointment?
What else do we love?