Marionette Lines and Jowls Treatment
at Facelove Medispa
As we age our skin on the sides of the face 'goes south'.  This creates a sad appearance when you are happy.  It can be annoying people asking if you are sad when you don't feel that way.  Thankfully we can turn the mouth frown upside down.  We can use fillers in the marionette lines to create a smoother mouth area and jaw line.  These fillers last 12-18 months and sit naturally in your skin.  We only perform natural looking results at Facelove Medispa so you can be relaxed about your filler treatment.
Dissolvable
All our dermal fillers are dissolvable and registered in the ARTG, AUST R 67311, AUST R 172264
Natural Results
Artistic, natural looking results to enhance your best features
Skilled
Aesthetic treatments performed by highly skilled practitioners
Treatment Plan
Step by step, holistic treatment plan to achieve the desired result
What is the treatment?
After your initial 45 minute consultation with a Facelove healthcare practitioner, you may find you require a lower face rejuvenation with dermal fillers. We all lose facial volume as we age and believe it or not, our facial bones also shrink. This creates a look of deflation in the mouth, marionettes and the jowls also become more marked. Sometimes our clients describe this as 'going south'.  The fat pads also slide down as we age creating sharper contrast between areas of the face.
The marionette lines sit either side of the mouth running vertically (like a puppet or marionette doll). The jowl starts to form as the cheek falls down. The dip you can see in the jawline accentuates the jowls and catches the light.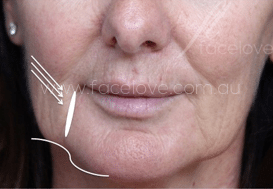 This is all a normal part of facial ageing. Thankfully, we can treat this 'going south' with dermal fillers injected into the marionette and jawline area. At Facelove Medispa we only use dissolvable dermal fillers. Our dermal fillers are made from a sugar chain and are easily reversed if there is any problem.  The fillers last 9-18 months.
It is vital that your dermal filler treatment be undetectable and artistic. Our healthcare practitioners are highly trained in the art of cosmetic injecting. You may want to consider all treatment options and create a treatment plan that works aesthetically.
How does the treatment work?
Dermal fillers are applied to the marionette lines and the corners of the mouth. This hides the shadow between the 2 areas creating a flatter shape. This smoothens out the marionette lines and reduces the appearance of the jowls.
The next step is to inject along the jawline at the base of the marionette (jowl dip).  As discussed before, the jowl dip on the jawline catches the light and we need to reduce the curve by injecting the jawline.  We can inject filler in a sequence that creates a straight line and lessens the visibility of the jowl
You can see the results immediately and as discussed, all of our dermal fillers are dissolvable for maximum safety.
What can I expect on the day after treatment?
As with all injection treatments, there may be some redness in the area of injection for an hour or so. Bruising is always a minor risk when having injectable treatments. You can minimize this risk by avoiding alcohol, omega 3 products and anti-inflammatory drugs for 24 hours before your treatment. It is possible you may experience some swelling for 48 hours to one week. We will discuss all these points at your appointment.
What can I expect from the treatment overall?
Dermal fillers in the marionette and jowl area should restore the natural curve of your jawline and bring back a more youthful facial shape.  We aim to leave you feeling refreshed, like you have been on a long holiday.
At Facelove Medispa, we constantly strive for outstanding results.
If you are going to have fillers in your lower part of the face you should also consider enhancing your cheek contours for balance. We like our patients to look like they have been on a holiday, well rested and not overfilled. Check out our page on cheek fillers here.
View before and after photos of our own cosmetic injectable work
These are some examples of the natural looking work achieved by our highly skilled Facelove Medispa practitioners
Tip - When selecting your injector, always insist of viewing photos of their own work
Discover our Injectable Treatments
Here at Facelove, we offer a range of treatments to keep you looking and feeling your best.