Under eye treatments – what you need to know!
Under eye fillers are the single most tricky treatments for an injector to perform.
It requires skill, training, and experience.
Under eye fillers require the usage of the 'correct' dermal filler. Some of them love water too much and create a puffy appearance.
It requires 'under treatment', you should never try to get rid of a tear trough completely. It looks weird and not human. Toddlers have a tear trough. It is a normal facial feature.
If the skin under your eye is weak you need laser resurfacing or Dermapen skin needling BEFORE any dermal filler treatment. You must thicken your skin first.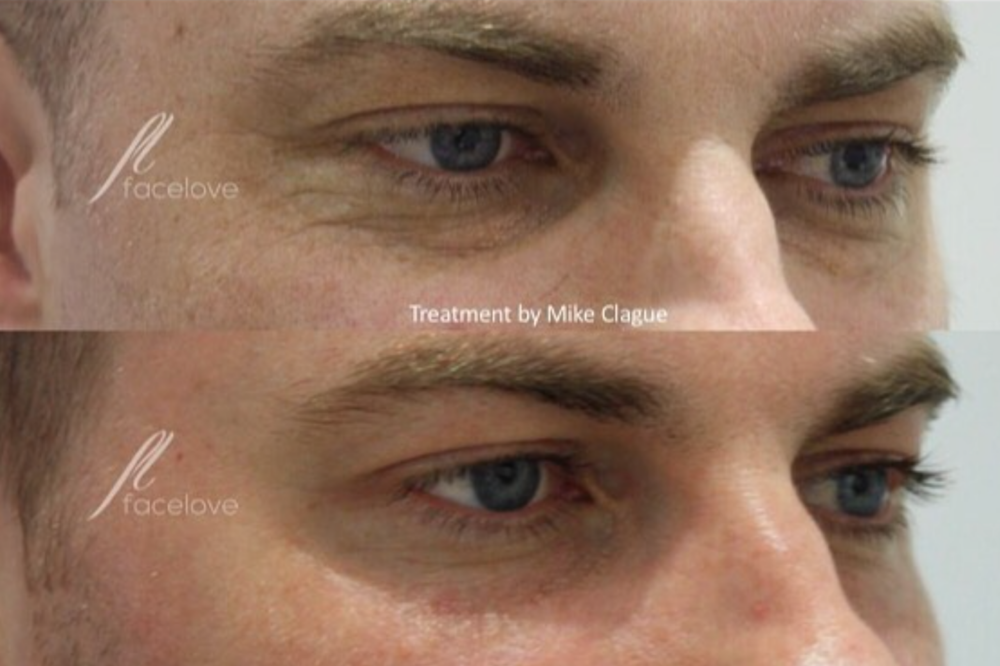 Before and After – Fractional CO2 laser resurfacing. Cheek filler. Under eye Filler.  Crow's feet anti-wrinkle injections. A triple approach.
Sunscreen is a vital part of your treatment plan.
Skin care – Peptide serums are fantastic for the under-eye area because they do not irritate the eye – Facelove Skin 'P – Serum' is a great way to stimulate collagen and smooth lines with 3 peptides at a high concentration.
The under eye fillers used must be selected carefully for the individual. Some clinics buy big filler orders to get a bulk purchase discount. Then they use whatever they have. We pay MORE for our under eye fillers because we do not buy deals. We know that fillers are like paint brushes. Everyone is different. Everyone should be carefully selected based on the patient. We will always choose the best filler for the best indication and the best outcome.
We are not a greedy clinic. We believe in the best outcome for you. So, if after assessment your best option is under eye surgery we will recommend a surgeon.

Dermal filler to the under eye area – tear trough.
Remember – we are all different! So please come in and discuss your under-eye treatment options.
To arrange a complimentary 45 minute consultation with one of our experienced practitioners please call 1300 458 491 or email us at hello@facelove.com.au